Ik ben een fan van artjournalen, thuis heb ik diverse creatieve dagboeken liggen waarin ik geëxperimenteerd heb met van alles en nog wat. Het enige wat me een stuk minder aan artjournalen en experimenteren bevalt, is de chaos die ik ermee veroorzaak!
Het gaat niet eens zozeer om de chaos in mijn artjournal, maar om de explosie van rommel in de ruimte om mijn artjournal heen… Een uurtje artjournalen staat voor mij gelijk aan een uur opruimen en schoonmaken. Echt, alles zit eronder!
Daarom ben ik zo blij dat artjournalen ook digitaal kan. Alles wat me leuk lijkt om in een artjournal te verwerken scan ik in of fotografeer ik, waarna ik het bewerk ik in Photoshop. Deze spulletjes verkoop ik dan in mijn winkel bij Digiscrap.nl. maar zelf gebruik ik ze ook maar wat te graag…
---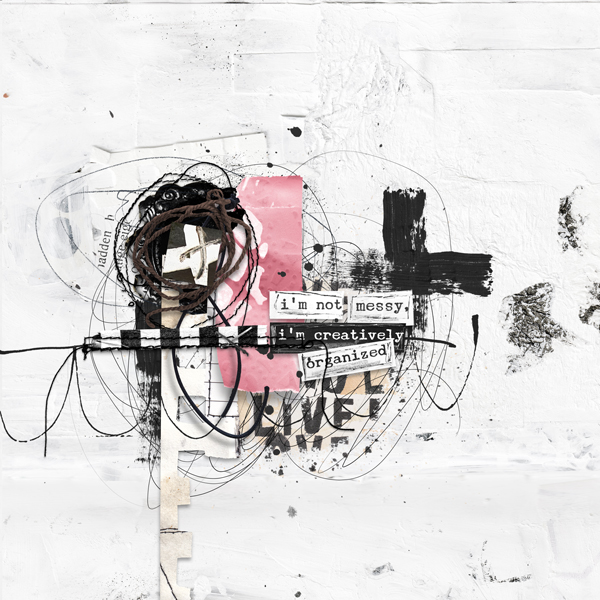 I am a fan of artjournaling, at home I have several creative diaries in which I experimented with all kinds of stuff. The only minor about art journaling and experimenting is the chaos it cause with it!
It's not so much about the chaos in my artjournal, but about the explosion of paint and materials in the space around my artjournal… An hour of artjournaling is equal to an hour of tidying up and cleaning. Really, everything is a mess!
That's why I'm so happy that art journaling can also be done digitally. I scan or photograph everything that I think would be fun to incorporate in an art journal, after which I edit it in Photoshop. I then sell these items in my shop at Digiscrap.nl but i like to use them too much…