De basis van al het scrapbookwerk is de ondergrond. Scrapbook papers zijn vierkante, stevige vellen papier met aan één of weerszijden een print. Het formaat van deze vellen is standaard 12 x 12 inch (30,48 x 30,48 cm). Digitale scrapbook papers hebben hetzelfde formaat. Ze zijn ook 12 x 12 inch (3600 x 3600 pixels), hebben 300 dpi (dots per inch) drukwerk kwaliteit en worden geleverd in JPG formaat. Ze worden ook wel background papers genoemd.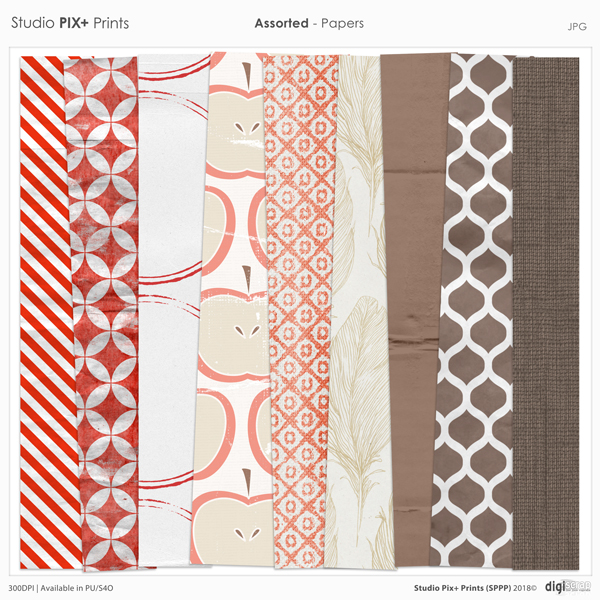 De achtergrond papers hierboven bestaan uit verschillende texturen en patronen. Sommige hebben een "shabby" (versleten) uitstraling. De shabby uitstraling is een persoonlijk keuze van de designer zelf. Net als bij echte scrapbook papers is er verschil in stijl. De layout hieronder is gemaakt met een verkreukelde achtergrond. Hierdoor ontstaat een heel realistische look. Het had net zo goed een foto van een handmatig gescrapte layout kunnen zijn.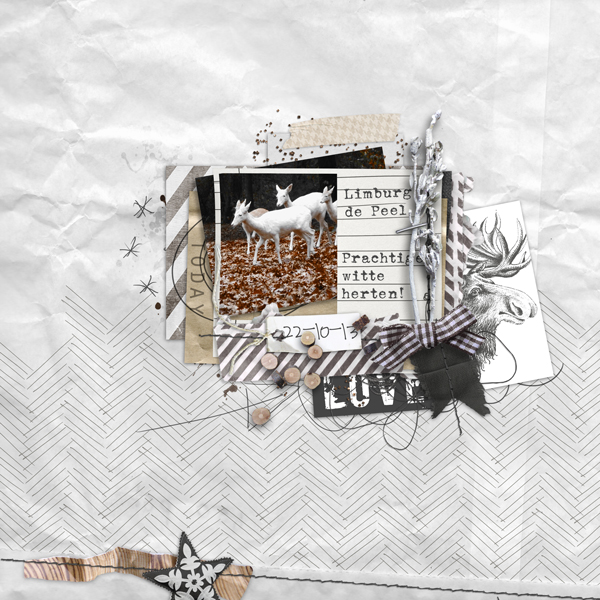 Er bestaan ook papers met meer diepte. Het lijkt dan bijvoorbeeld alsof je in een doos, fotolijst of andere kleine ruimte kijkt. door je scrapwerk extra schaduw te geven, ontstaat er een mooie diepte werking.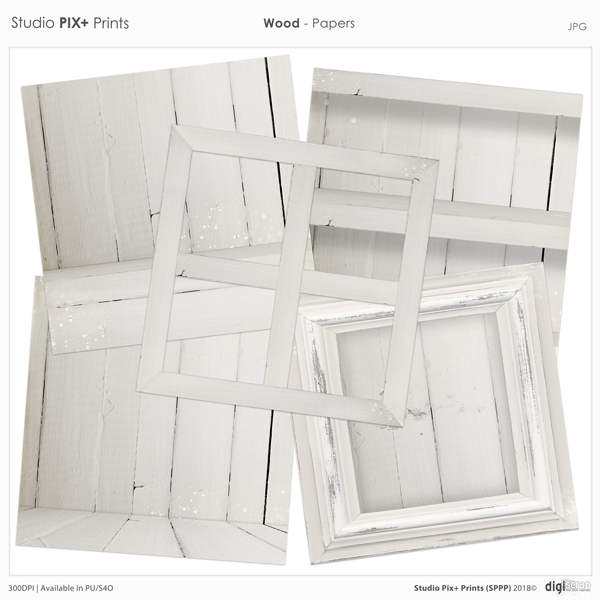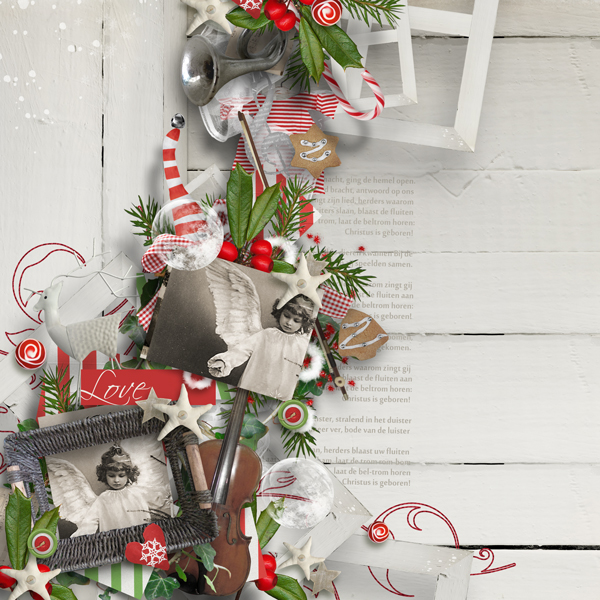 Er zijn achtergrond papers die nog meer diepte hebben. Daar kijk je niet een kleine ruimte in, je kijkt als het ware daar een hele andere wereld in. Deze virtuele achtergrond scenes kunnen bijvoorbeeld heel fantasierijk of sprookjesachtig zijn. Daarnaast zijn er ook realistische achtergronden van steden, berglandschappen of met zee en strand erop. Soms zijn ze getekend of geverfd, gefotografeerd en bewerkt of alleen gefotografeerd. Alles is mogelijk! Er bestaan ook creatieve combinaties van boven genoemde technieken.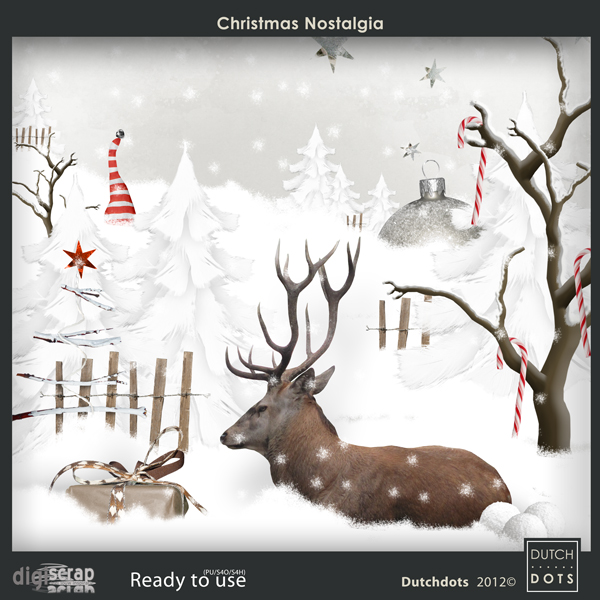 Bij deze achtergronden kun je het best de persoon(en) op je foto's helemaal vrijzetten (digitaal uitknippen). Door ze in de scene van je paper te plaatsen, ontstaan er hele mooie sprookjesachtige afbeeldingen die prachtig op een canvas staan.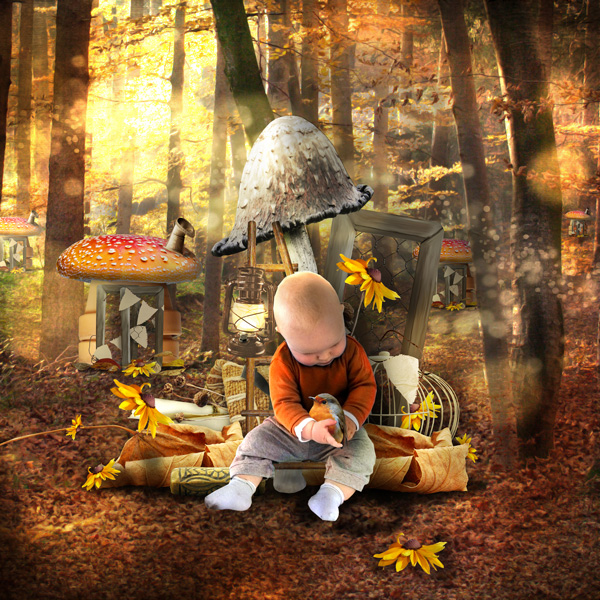 Je ziet dus dat er een hele hoop verschillende mogelijkheden zijn als het om digitaal scrapbook gaat. Je kan een traditionele scrap maken, maar ook een hele fantasierijke wereld creëren. Hieronder geef ik nog een laatste voorbeeld. Deze achtergronden zijn wat artistieker en al van wat elementjes voorzien. Daar kan natuurlijk overheen en omheen worden gescrapt, of alleen een tekst worden bijgezet. Alle achtergronden kun je ook uitprinten en in je artjournal verwerken of er "echt" mee scrappen. In feite is alles wat digitaal is ook afdrukbaar! Volgende keer ga ik het hebben over digital scrapbook elements en embellishments.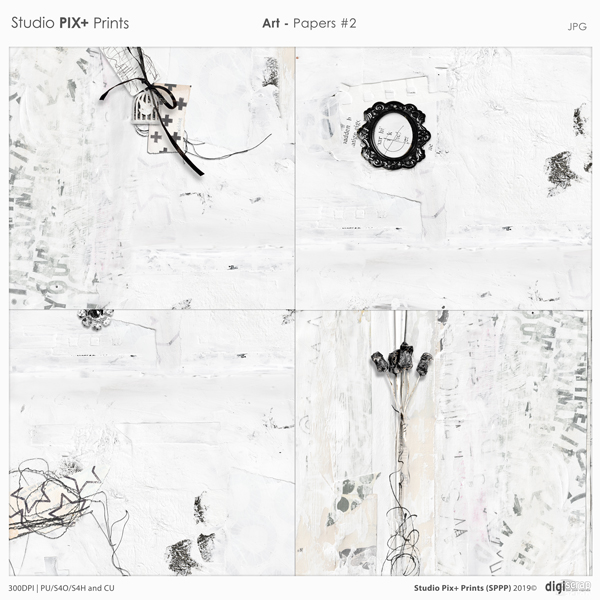 Digital scrapbook papers
The basis of all scrapbooking is the background. Scrapbook papers are square, firm sheets of paper with a print on one or both sides. The size of these sheets is standard 12 x 12 inches (30.48 x 30.48 cm). Digital scrapbook papers have the same format. They are also 12 x 12 inch (3600 x 3600 pixels), have 300 dpi (dots per inch) printing quality and are supplied in JPG format. They are also called background papers.
The background papers on the first image have different textures and patterns. Some have a "shabby" appearance. The shabby appearance is a personal choice of the designer self. Just like with real scrapbook papers, there is a difference in style. The layout on te second image is made with a crumpled background. This creates a very realistic look. It could just as well have been a photo of a manually scraped layout.
There are also papers with more depth. For example, it looks like you are looking in a box, photo frame or other small space. by giving your scrapwork extra shade, a nice depth effect is created. (See image 3 and 4).
There are background papers that have even more depth. You don't look into a small space there, you look into a whole different world. These virtual background scenes can be very imaginative or fairytale-like, for example. In addition, there are also realistic backgrounds of cities, mountain landscapes or with the sea and beach on them. Sometimes they are drawn or painted, photographed and edited or only photographed. Everything is possible! There are also creative combinations of the above techniques. With these backgrounds, it is best to extract the person (s) from your photos completely (digitally cut out). By placing them in the scene of your paper, beautiful fairy-tale images are created that look wonderful on a canvas. (See image 5 and 6).
You see that there are a whole lot of different options when it comes to digital scrapbook. You can make a traditional scrapbook layout, but you can also create a very imaginative world. The last image is my final example. These backgrounds are more artistic and have some elements. You can scrapbook over and around it, or just add some text. You can (of course) print all the backgrounds and incorporate them into your artjournal or scrapbook with them "in real". In fact, everything that is digital is also printable! Next time I will blog about digital scrapbook elements and embellishments.