In mijn blogpost over de achtergrond heb ik ook een klein stukje geschreven over collage. Collage kan prima als achtergrond dienen voor je onderwerp mits… het niet te druk is! Als dat wel het geval is kun je het altijd "temperen" met wat verf.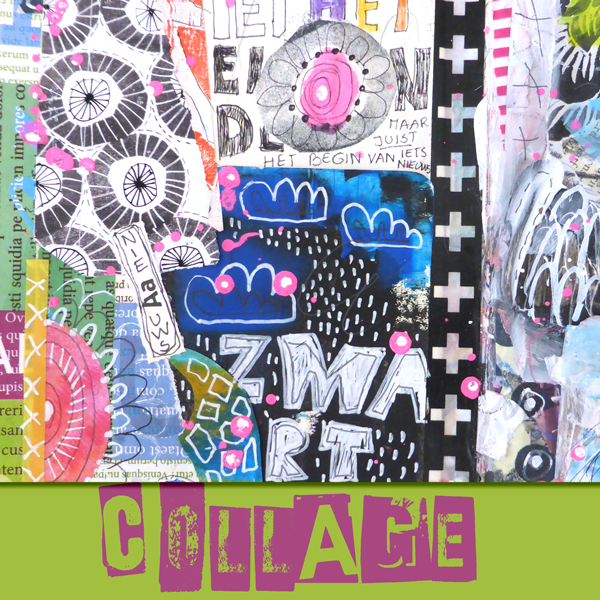 Enkele maanden geleden heb ik me aangemeld voor een online cursus bij Roben Marie waarbij voornamelijk met collage wordt gewerkt. Deze techniek geeft weer een heel andere kijk op artjournaling waarbij de collage op zich het "kunstwerk" is. Op de foto bij dit stukje staat een collage werkstuk dat ik zelf gemaakt heb. Ik heb er trouwens ook wat stukjes in gebruikt van Roben Marie's werk. Haar advies om je eigen werk in te scannen of te fotograferen en gedeeltelijk opnieuw te verwerken in volgende projecten is één van de beste tips die ik ooit gehoord heb. Zo borduur je als het ware voort op je eigen werk! Het "wiel" papiertje links bovenin komt uit een eerder project die ik gemaakt heb met zelfgemaakte foamstamps waarvan ik de afdrukken vervolgens heb bewerkt met fineliner en witte stift. De wieltjes in de cirkels heb ik in deze ronde toegevoegd. Waar je wel mee moet oppassen als je geprint werk opnieuw inscant is dat er moiré kan ontstaan, een moiré patroon is een bekend fenomeen in de drukwereld en ontstaat als 2 of meerdere patronen elkaar storen. Gelukkig hebben de meeste scanners een moiré-reductie optie waarmee dit probleem (deels) ondervangen wordt.
Journalen is nog steeds mogelijk zoals je ziet, dat doe ik gewoon door de collage heen op plekken waar het kan. Bij deze vorm van collage maak ik gebruik van een lijmstift in plaats van gel medium. Daarnaast hebben gekleurde tapejes of tapejes met print, stempels, verfspetters, marks met fineliners, potloden (gekleurd) en krijt ook een heel mooi effect op dit soort collages. Het is eigenlijk gewoon een kwestie van proberen.
In my blog post about the background I also wrote a small piece about collage. Collage can perfectly serve as a background for your subject, provided that it is not too busy! If that is the case you can always "tone it down" it with some paint.
A few months ago I signed up for an online course at Roben Marie that mainly works with collage. This technique gives a very different view of artjournaling where the collage itself is the "work of art". At the picture accompanying this post is a collage that I made myself. I also used some pieces of Roben Marie's work in it. Her advice to scan or photograph your own work and to partially re-process it in subsequent projects is one of the best tips I have ever heard. In this way you build on top of your own work! The "wheel" paper at the top left comes from an earlier project that I made with homemade foam stamps, the prints of which I then edited with fineliner and white marker. This time I added the wheels in the circles. What you have to watch out for when your printed work is re-scanned is that moiré can occur, a moiré pattern is a well-known phenomenon in the printing world and occurs when 2 or more patterns disturb each other. Fortunately, most scanners have a moire reduction option that (partially) overcomes this problem.
Journaling is still possible as you see, I just do that through the collage in places where it is possible. With this form of collage I use a glue stick instead of gel medium. In addition, colored tapes or tapes with print, stamps, paint splatters, marks with fineliners, pencils (colored) and chalk also have a very nice effect on this kind of collages. It is really just a matter of trying.