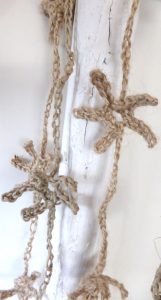 Hierbij een leuke freebie in de vorm van een "feelgood" projectje. Deze zeesterrenketting heb ik met fijn vlas bindtouw gehaakt. Dit touw is bij bijna elke supermarkt verkrijgbaar. Je kunt deze ketting vrij snel en eenvoudig haken:
Haak eerst 25 losse steken.
Haak een vaste in de 24ste steek.
Haak 5 losse steken.
Haak in de 4de, 3de, 2de en 1ste steek en halve vaste.
Haak een vaste wederom in de 24ste steek en blijf aan de rechterkant van de losse ketting.
Herhaal stap 3 t/m 5.
Herhaal stap 3 en 4.
Steek de haaknaald nu aan de linkerkant van de losse ketting in de 24ste steek (zie stap 5) en sla de draad over de losse ketting heen en haak een vaste.
Herhaal stap 3 t/m 5 maar blijf nu aan de linkerkant van de losse ketting.
Herhaal stap 3 en 4.
Steek de haaknaald door de 24ste steek, haal de lus er doorheen zodat er nu 2 steken op de haaknaald staan, steek vervolgens de haaknaald door de rechter lus van de 1e vaste steek bij stap 2 door.
Haak deze 3 steken in 1 keer naar 1 lus, net als bij een halve vaste.
OPTIONEEL (Hierdoor komt de zeester bovenop de ketting te leggen) Draai de zeester om en haak een halve vaste door de eerst beschikbare linker lus in de 24ste steek aan de achterzijde, zorg dat het draad rechts van de haaknaald is voordat je de steek maakt.
Herhaal 9 maal stap 1 t/m 12 of 13.
Haak 25 losse steken en hecht af.
Crochet pattern starfish-chain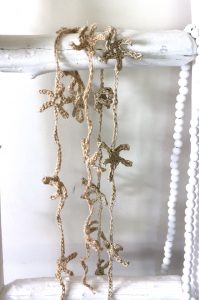 Here is a nice freebie in the form of a "feel-good" project. I stitched this starfish-chain with fine flax twine. This rope is available at almost every supermarket. You can make this chain pretty quickly and easily:
Start with 25 Chain stitches.
Single crochet in the 24th chain stitch.
Make 5 Chain stitches.
In the 4th, 3rd, 2nd and 1st stitch a slip stitch.
1 Single crochet again in the 24th stitch and keep on the right side of the chain.
Repeat steps 3 through 5.
Repeat steps 3 and 4.
Now insert the crochet hook on the left side of the chain in the 24th stitch (see step 5) and slip the thread over the chain and make a single crochet.
Repeat step 3 to 5, stay on the left side of the chain.
Repeat step 3 and 4.
Insert the crochet hook through the 24th stitch, pass the loop through it so that there are now 2 stitches on the hook, then insert the hook through the right loop of the 1st single crochet in step 2.
Pull these 3 stitches at once through the loop, just like slip stich.
OPTIONAL (This will place the starfish on top of the chain) Turn the starfish over and make a slip stich through the first available left loop in the 24th stitch at the back, make sure that the thread is on the right of the crochet hook before you make the stitch.
Repeat 9 times step 1 to 12 or 13.
Finish with 25 chain stitches.