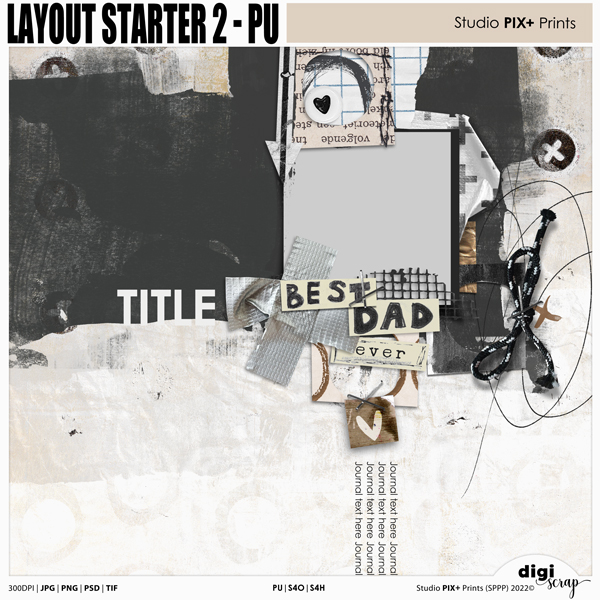 Layout Starter Template 2 – PU
Met deze layout template, wil ik je graag op weg helpen en laten zien dat elementjes en papers vaker in verschillende projecten gebruikt kunnen worden. Door een andere samenstelling, een ander kleurtje of patroontje ontwikkelt zich weer een heel nieuw beeld. Het voordeel van digitale bestanden is dat ze niet op raken en daarom keer op keer opnieuw gebruikt kunnen worden. Het kan daarom heel goed voorkomen dat je vaker hetzelfde elementje tegenkomt. Ik put uit alle SPPP bronnen om een mooie template te maken. Het gaat bij dit product niet in de eerste plaats om de elementjes of de papers, maar meer om het ontwerp en het concept van hergebruik. Bij de prijs is hier ook rekening mee gehouden. Dit pakket bevat in totaal 21 digitale elementjes (PNG), 1 papers (12 X 12 inch) in JPG bestandsformaat en een template in PSD, TIF en als quickpage in PNG formaat. Alle bestanden zijn 300 dpi voor een goede afdrukkwaliteit.
With this layout template I would like to help you on your way and show you that elements and paperscan be used more often in different projects. By a different composition, a different colour or pattern, a whole new image develops. The advantage of digital files is that they do not run out and can therefore be used over and over again. It is therefore quite possible that you will see the same element more than once. I use all the SPPP sources to make a nice template. This product is not primarily about the elements or the papers, but more about the design and the concept of reuse. The price takes this into consideration as well. This package contains in total 22 digital elements (PNG), 1 paper (12 X 12 inch) in JPG file format and a template in JPG/TIF formatand as quickpage (PNG). All files are 300 dpi for good print quality.