In de vorige blogpost schreef ik over een workshop die ik samen met een vriendin heb gedaan bij Royal Talens in Apeldoorn. Dit is het tweede product dat ik (gedeeltelijk) met het resultaat van deze workshop heb gemaakt. Deze 12 elementjes danken hun artistieke uitstraling aan de verfklodders en vlekken van Talens of door de doodles, dat is namelijk ook iets dat ik graag op bladeren mag doen. Ik heb zelf een hanger van doodle bladeren al 3 jaar in mijn keuken hangen en kan er maar geen genoeg van krijgen!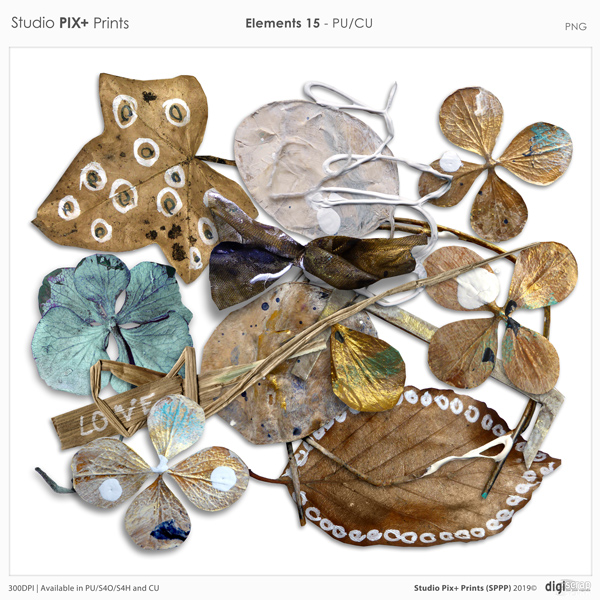 Tussen 2011 en 2017 heb ik behoorlijk wat digitale scrapbook producten gemaakt. Vorig jaar heb ik deze uiteindelijk allemaal ontbonden en opnieuw gebundeld tot producten voor commercieel gebruik (CU). Dit wil niet zeggen dat deze producten niet meer geschikt zijn voor persoonlijk gebruik (PU)! Sterker nog, al mijn producten zijn nog steeds geschikt voor persoonlijk gebruik en bijna alle PU producten hebben ook een goedkoper prijstarief. Helaas waren mijn kits niet succesvol genoeg om met het ontwerpen hiervan door te gaan. Dus ben ik gestopt (op een uitzondering na) met het maken van totale thema kits. Na 6 jaar kom ik (helaas) tot de conclusie dat mijn fantasie niet zover reikt op het gebied van thema's bedenken voor een kit. Thema's en kleurschema's zijn voor mij altijd een enorme uitdaging en tevens ook een grote beperking geweest. Ik vind het veel makkelijker om losse producten te maken waarmee naar hartenlust gecombineerd kan worden. Eigenlijk scrap(te) ik zelf ook altijd al op deze manier en dat bevalt mij nog steeds prima. Als ik volledige kits maakte of kocht was ik ze na een paar lootjes al zat. Terwijl ik met losse producten blijf combineren. Ik denk dat deze manier van werken beter bij mij past en dat daar ook mijn kracht ligt.
In the previous blog post I wrote about a workshop that I did with a friend at Royal Talens in Apeldoorn. This is the second product that I made (partly) with the result of this workshop. These 12 elements owe their artistic appearance to the paint clots and stains of Talens or through the doodles, because that is also something that I like to do on leaves. I have had a hanger of doodle leaves in my kitchen for 3 years now and I just can't get enough!
Between 2011 and 2017 I made quite a few digital scrapbook products. Last year I finally
separate all of these and bundled them again into products for commercial use (CU). This does not mean that these products are no longer suitable for personal use (PU)! In fact, all my products are still suitable for personal use and almost all PU products have a lower price. Unfortunately my kits were not successful enough to continue designing them. So I stopped (with some exceptions) making total theme kits. After 6 years I (unfortunately) come to the conclusion that my imagination does not go that far in terms of think up themes for a kit. Themes and color schemes have always been a huge challenge for me and also a major constraint. I find it much easier to make individual products that can be combined. Actually, I always have done en still love to scrap in this way. When I made or bought complete kits, I was already fed up with them after a few layouts. While I continue to combine with individual products. I think that this way of working suits me better.