Met deze printable template kun je je kanjers pas echt verrassen! Op dit schattige doosje in lucifersdoosjes formaat staat de tekst: "Voor mij ben jij een…". Doe je het doosje open dan zie je een lief keitje dat "kei!" zegt. Het pakketje bestaat uit een duidelijke handleiding, een A4 printable template in JPG formaat zonder tekstbericht (tekst kan later handmatig met pen o.i.d. worden toegevoegd) en een printable template in TIF en PSD formaat met een tekstvak om een berichtje typen, deze komt op de achterzijde van het doosje te staan. Heb je geen keitjes? Geen probleem er zitten papieren keitjes bij! Ook zit er een blanco lucifersdoosje template en printable bij om je eigen doosjes mee te ontwerpen. Alles is CU (small home business) geschikt en op 300 DPI gemaakt. Verkrijgbaar in 2 licentie vormen: PU/CU.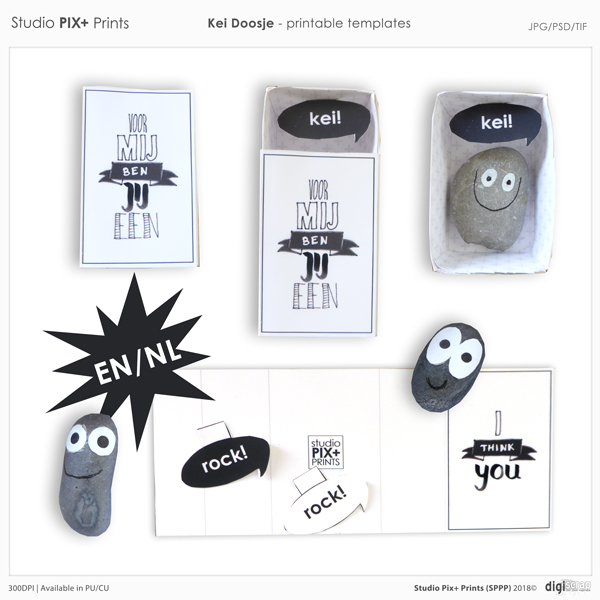 Box "I Think you rock"
On this cute matchbox sized box stands the text: "I Think you…". When you open the box a sweet pebble says "Rock!". The package come with of a clear manual, an A4 printble template in JPG format without a text message (Can add later text with pen or something else) and a printable template in TIF and PSD format with a text box to type your message, it will be placed on the back of the box. Templates and printable are both in Englisch and Dutch. Do you not have any pebbles? No problem there are paper pebbles on the printable! There is also a blank matchbox template and printable to design your own boxes with! Everything is CU (small home business) suitable. All at 300 DPI. Available in 2 licenses: PU/CU.